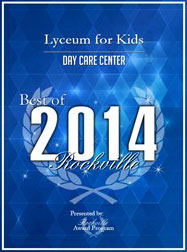 In our Education Center we have created supportive environment for development and education of children ages 1.5 through 18. Here's what we offer:
Daycare "Lyceum for Kids"
Education Center "ELF" offers award winning Daycare "Lyceum for Kids" for children 18 months to 6 years at several convenient locations. Daycare is open 8:00am to 6:00pm Monday through Friday. We serve home-cooked meals 4 times a day. More info on Daycare »
Summer Camp
Our Summer Camp is open from June till September at ELF Studio's location. We invite children of ages 5 to 8 years.